Mainframe Real Estate is the sister company of Cross Section Technologies and has the greatest variety of Cross Section Technologies technology services.
Downtown Orlando Maps
Mainframe Real Estate has a detailed profile for every neighborhood, condo and apartment Downtown Orlando. Map overviews display neighborhood boundaries, condos or apartments using GIS data,  custom place-markers or balloon pop-ups.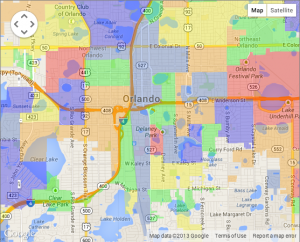 Sanctuary Downtown Condo Website
Mainframe Real Estate created the first high-rise Showing Simulation Tour for the Sanctuary Downtown Condo. This website dedicated to the Sanctuary includes information about the high-rise, an extensive photo gallery and a Showing Simulation Tour of the amenities, event venues and more.
Visit SanctuaryDowntownCondo.com
Showing Simulation Tours
Showing Simulation Tours are destined to become the future of real estate marketing and sales. 3D mapping and 3D walkthroughs are combined to create a 'virtually' complete showing online.
View the Showing Simulation™ Tours hosted by Cross Section Technologies.
Street View Tour
The Street View Tour of Mainframe Real Estate is live on Google Maps. When someone finds the Mainframe Real Estate profile on Google Maps or during a Google Search, they have the option of viewing inside the office lobby.
Website Design
The Mainframe Real Estate website was designed and developed by Cross Section Technologies. The site meets the highest tech standards, including responsive to all browser sizes and containing current scripting languages. The site is full of relevant content, helping it rank very well with search engines.
Visit MainframeRE.com and explore the site.